Born and raised near Bordeaux, France, Frederic began riding horses at age 10. At age 12, he began his competitive career, competing in regional finals across Europe in the disciplines of show jumping and eventing.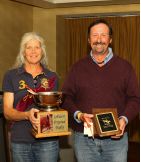 After completing his tour in the French military, Frederic continued his riding career and immigrated to the United States in 1988. After gaining a reputation in Phoenix as an extremely competent rider and instructor, Frederic joined forces with the famed Andrew Popiel at Trojan Farm in North Phoenix.
Upon Trojan's closure, Frederic relocated to Pinnacle Peak Equestrian Center in North Phoenix, Arizona.
Frederic's philosophy is to train students to their highest potential, using a practice of consistency, repetition and precision, while keeping the safety of the horse and rider paramount to all else.
Consequently, this method produces many successful riders. Many of Frederic's students compete at the upper levels of eventing, and Frederic has coached many young riders all the way to the North American Young Riders Championships.
Frederic is one of a small group of people in the country who has earned his Level 3 Designation as a
United States Eventing ICP Instructor
.
Frederic teaches riders of all ages and levels, even instructing riders that concentrate primarily on show jumping or dressage. He frequently gives clinics across the Western United States, traveling to Wyoming, Montana, California, Colorado, Utah and New Mexico.
The team of adult amateurs and young riders avidly compete with Frederic at well over a dozen events a year in Southern California, New Mexico and Arizona, earning top honors and year-end high point placings. Frederic himself has earned USEA Area X "Rider of the Year" several times, most recently in 2009 and 2010.
When he is not teaching, training or competing at horse shows, Frederic enjoys relaxing with his family, traveling and an occasional bottle of Veuve Clicquot champage or a good Bordeaux.